Is Manchester the best city in the UK for filming & production?
Fast becoming one of the most desirable filmmaking destinations in the country, Manchester is home to one of the most innovative creative scenes in Europe.
Manchester is regularly drawing in international producers, as they opt to take advantage of the city's diverse array of locations, top-level studio facilities, low fees and talented cast & crew to set up base for their TV, film and commercial productions.
As a Manchester-based production service company, we're proud to be located in the city centre, amongst all of the action. With over 15 years experience in the industry, we've witnessed firsthand the exponential growth of the North West's creative sector, and in particular Manchester's surge in creative talent.
For us, working in Manchester comes with unlimited opportunities that we can offer to our clients, no matter their brief or budget. The sheer scope of potential when it comes to filming in Manchester is far beyond many other UK and European cities in regards to the locations and resources available.
Manchester's creative & digital scene
Commonly known as 'England's second city', Manchester's creative scene has continued to grow and thrive over the years, putting the city well and truly on the map and proving itself to be worthy of its comparisons to London.
Manchester is all about creativity, community and culture. We're passionate about our history, and the things that have made the city what it is today.
Widely recognised as the home of football, Manchester holds two of the largest football clubs in the world – Manchester United and Manchester City. Football is ingrained in our history, and being home to the likes of Old Trafford and Etihad Stadium is one of the major reasons that attracts thousands of tourists to the city every year. Experiencing the football culture here in Manchester is like no other, and is what we believe makes the city the best location for football shoots and photography. You won't find anywhere else quite like it!
Not only is our football talent second to none, our musical talent is too. Manchester can be thanked for delivering some of the greatest bands and musicians of all time, including The Stone Roses, The Smiths, Oasis and the Happy Mondays; all born and bred Mancunians who found their fame right here in the North West. 
On par with our love for football and music, is our passion for creativity. The thriving TV & filming scene here in Manchester has produced some of the most noteworthy movies and TV programmes to date. It's home to one of the country's leading digital and media hubs, MediaCityUK .
From established digital & technology companies to flourishing start-ups, Manchester is thriving with talent and is internationally recognised as one of the world's most creative cities. The Mancunian community is like no other, and combining the people who live and work here with everything else the city has to offer makes it (we believe) the best place to film in the UK.
Top filming locations in Manchester
"There's something for everyone" is a saying that may well have been coined for Manchester. As you're standing in one of the city's many gritty, urban settings, you're only a few strides away from luxurious, high-end spots and even just a short drive away from idyllic, picturesque countrysides and coastlines.
Whether it's culture or creativity you're looking for, Manchester has it all. Here are some of our favourite locations to shoot in and around the city.
Northern Quarter
Manchester's quirkiest, trendiest neighbourhood the Northern Quarter is packed full of character, creativity and artistry. Highly regarded for its fun and welcoming atmosphere, the Northern Quarter streets are lined with indie bars, shops, restaurants, live music venues and art galleries.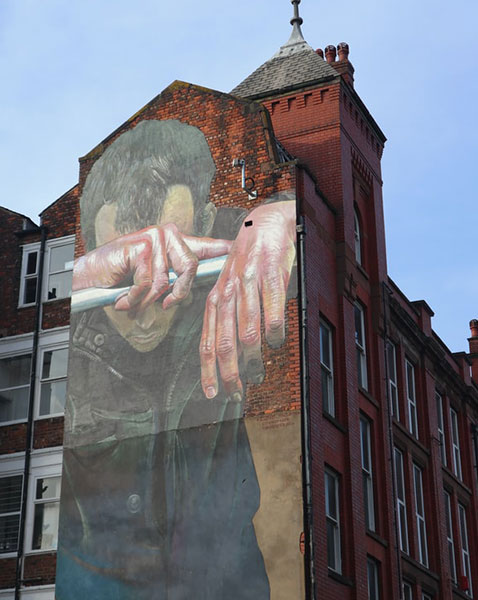 The versatility of the Northern Quarter has made it one of Manchester's most popular filming locations. From utilising its grungy street art for an urban backdrop to taking inspiration from its stunning 18th century red brick buildings to perfectly replicate historical settings.
The Northern Quarter has so much to offer, that we didn't even think twice about setting up our Sugar Free TV headquarters here. Being based right in the heart and soul of it, we're uniquely positioned to gain access to all of the top shooting locations here that perfectly fit our clients' briefs, with quick turnaround times on approvals. It's the ideal filming spot for those looking for the gritty feel of an inner-city setting, without the hefty price tag of shooting in the likes of London.
Castlefield
Away from the hustle and bustle of the city centre, Castlefield is Manchester's more relaxed and laid back neighbourhood. Immersed in history and culture, Castlefield retains its industrial heritage with brick warehouses, old mills and an incredible old Roman fortress.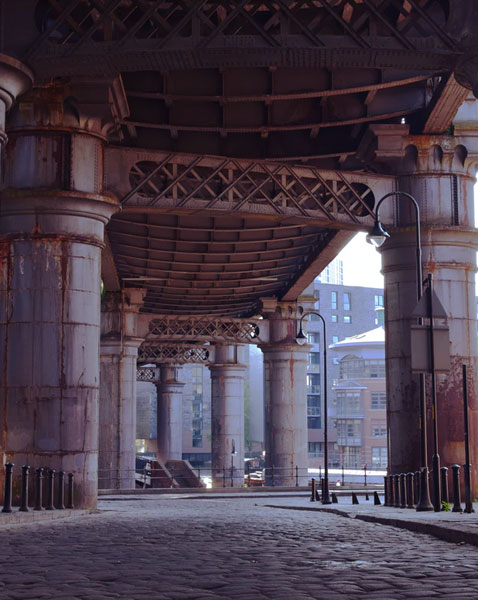 Surrounded by a network of canals, the beautiful cobbled streets of Castlefield pave the way to canalside bars & restaurants, galleries & museums, and its huge outdoor music venue, Castlefield Bowl. Picturesque and rustic, Castlefield is uniquely charming and offers a relaxed yet atmospheric setting in contrast to the busy city centre.
If you're travelling into Manchester for a shoot, it's likely that Castlefield might not be the destination at the tip of your tongue. However, if a quaint setting brimming with character is on the agenda, it might just be the perfect fit for you.
Spinningfields
Spinningfields is Manchester's financial district, known for its elegant and luxurious restaurants, bars and designer shops. A stark contrast from the likes of the Northern Quarter, but one that is a welcome option for those seeking out lavish backdrops and incredible building architecture for their filming needs.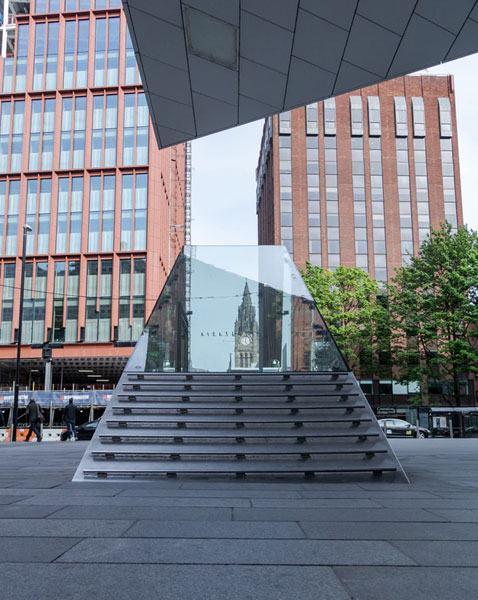 Located in the heart of Spinningfields is the newly landscaped Hardman Square, complete with high-rise glass fronted office buildings, trendy bars and large open public spaces. Nearby is Crown Square, which offers a similar city centre feel with a unique lively setting. 
Here you'll find Manchester Crown Court which is a notable filming location with exquisite exterior, neighboured by the particularly stunning outdoor courtyard area of quirky city centre bar, the Oast House. Head towards Deansgate to take advantage of the breathtaking Neo-Gothic architecture that is John Rylands Library if you're on the hunt for an eye-catching backdrop.
On film, the area proves a striking resemblance to the likes of London's elite boroughs, so for high-end shooting on a low-scale budget, look no further than Spinningfields to get the best bang for your buck.
Chinatown
Manchester is home to the UK's second largest Chinatown, a fascinating cultural district in the heart of the city centre which is adorned with authentic Chinese and East Asian restaurants, bakeries, shops and supermarkets.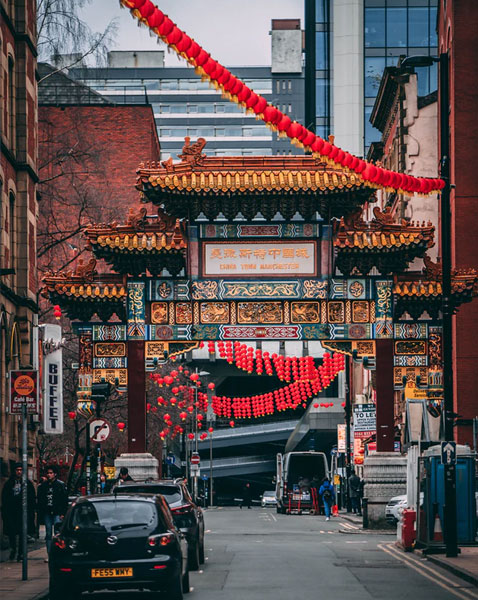 Distinctive with its Imperial Chinese Archway, the neighbourhood is full of character and carries a traditional yet vibrant atmosphere. The beautifully embellished streets offer plenty to play with when it comes to creating striking visuals on screen.
TV Commercials filmed in Manchester
As brands look to accelerate their growth and reach, the demand for commercial production in Manchester has soared in recent years. The potential that the city has to offer, combined with the many purpose-built studio facilities in the area has produced a number of high profile TV commercials.
Although, TV commercials being filmed around here is actually quite old news – 27 years old, at least. Back in 1993, the River Irwell near Granada studios was transformed into Venice for a Boddingtons beer advert.
Of course, the quality of commercial production has quite drastically evolved since then, and some of the most enticing TV adverts of the 21st Century have been shot and produced right here in Manchester.
Major Manchester tv & film productions
Manchester has been the go-to filming location for some of the biggest names in production over the years. The diversity of the city along with its rich, historical architecture has made it the unique choice for filming everything from period dramas to comic fantasy films.
From blockbuster movies to long-standing TV shows, here are some of the most notable TV and film productions that have taken place in Manchester.
Captain America: The First Avenger
This was a pinnacle moment for film production here in Manchester, as for the first time ever, Marvel ventured out of the US in 2010 to shoot one of their top-grossing films – and their chosen destination was right here in Manchester.
Well renowned for its likeness to a New York residential street, Dale Street in the Northern Quarter starred in a scene in Captain America: The First Avenger. The action-packed scene was entirely transformed into 1940's Brooklyn setting, complete with false shop fronts complementing the authentic red brick buildings in true grunge NY style.
Morbius
Marvel's Manchester filming success inspired their return in 2019, to shoot segments of Spider-Man spin-off movie, Morbius.
Areas of the Northern Quarter and Stevenson Square were turned into Manhattan, New York. If the abundance of yellow NY taxis & American flags lining the streets weren't a dead giveaway, then the influx of photos spotting Jared Leto hanging out around the city definitely were.
The movie has yet to be released, so we'll have to wait until March 2021 to see how realistic their New York transformation was on screen.
Sherlock Holmes
The likes of Robert Downey Jnr and Jude Law graced the streets of the Northern Quarter in 2009 to star in Guy Ritchie's Sherlock Holmes film.
Lever Street and Little Lever Street were completely revamped into a set which certainly passed for Victorian London, with Manchester Town Hall even making appearances as the Houses of Parliament.
Peaky Blinders
The authenticity of Peaky Blinders is enough to fool you into thinking that it really was filmed in 1920's Birmingham. In fact, a lot of scenes in the show were actually filmed right here in Manchester.
Tommy Shelby star Cilian Murphy visited the Northern Quarter to shoot some of his most action-packed shootout scenes and high energy car chases in series 4, then again returning to shoot some of series 5 on Princess Street and further scenes in and around Stockport.
If you're looking for a Manchester-based TV production partner, Sugar Free TV are a full service production company and can assist in facilitating every element of your project. Find out more about us or get in touch to make an enquiry.